Our Brooklyn neighborhood: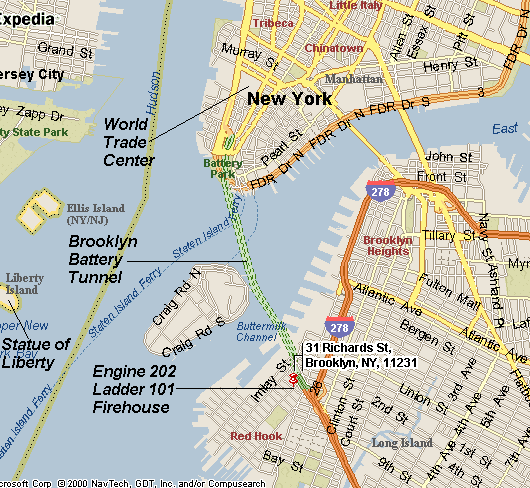 Located just outside the Red Hook, Brooklyn end of the Brooklyn-Battery tunnel, this firehouse was one of the first firehouse's to respond to the September 11, 2001 attack on the WTC.
On that day Ladder 101 lost all seven men who answered that call. Their brothers from Engine 202, who also answered that call, were uninjured. Both the engine and ladder trucks were destroyed.
Red Hook's Old port enjoying big-time revival
May 5, 2002 New York Daily News
Story about the revival of Red Hook Brooklyn.
---
Several views of Red Hook, Brooklyn:
September 11, 2001,
hurrying to the firehouse.
Our firehouse is located just a mile further on this Expressway.
The smoke is from the WTC.




The view over Red Hook from the Ninth Street stop of the F train. Our firehouse is located just to the left of the church steeple. This picture was taken a week after the WTC attack.
---
The view from the top of the Williamsburg Bank Building in downtown Brooklyn August 2002:
| | | |
| --- | --- | --- |
| Looking southwest toward our firehouse in Red Hook Brooklyn. | | Looking northwest over the tall buildings of downtown Brooklyn. The tall buildings in the distance is downtown Manhattan. |
| Looking north along the East River. That's the Williamsburg Bridge. The white sided building in the distance beyond the bridge is the UN. | | Looking north. In the foreground along the river is the Brooklyn Navy Yard. On the north side of the river is the Lower East Side of New York, and beyond that is midtown manhattan. |
| | | |
| --- | --- | --- |
| Looking north over Downtown Brooklyn. Beyond that is Downtown Manhattan. | | Looking southeast along Flatbush Avenue. The green area in the distance is Prospect Park. |
| Looking southwest along 4th Avenue. That's the Verrazzano Bridge in the distance. | | Looking south over the Park Slope section of Brooklyn. That green area in the distance is Prospect Park. |