Lieutenant Joe Gullickson photos: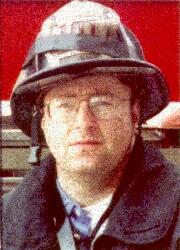 Memorial Service held on
November 10, 2001 on Staten Island.
LT. Joseph Gullickson, 37, lived two doors away from his brother and on the Sunday before the Sept. 11 attacks, the two had met outside and chatted. "He was just out walking the dog, and, as usual, we were just talking," said his brother, Robert. "We had a very, very tight relationship. We were basically best friends." Joseph Gullickson is among the firefighters missing at the World Trade Center. Gullickson, who has two young daughters, would have celebrated his fifth wedding anniversary in September. "We were a special couple and he absolutely adored his children," said his wife, Naoemi.
Copyright © 2001 The Associated Press
Click on any picture to enlarge.

The Seven in Heaven of Ladder 101.





Ladder 101 Hurry Home.


Joe in his firefighter gear.





Joe and his children.




September 21, 2001


Joe and his brothers.




BELL CEREMONIES
RESCUE WORKERS HONORED
During opening- and closing-bell ceremonies in the weeks following the September 11 attacks, the NYSE honored the rescue workers and those lost in the World Trade Center disaster. The opening ceremony on September 21 included N.Y./N.J. Port Authority Police Chief Tommy Farrell; Captain and Commanding Officer of the World Trade Center Anthony Whitaker; corrections officer Phil Rizzo; New York City firefighters Tom Piggett and Jerry Hall; as well as brothers Bob Gullickson, volunteer employee of Turner Construction, Ralph Gullickson, New York City police officer, and Tom Gullickson of the U.S. Postal Service, whose brother Joey is missing from Brooklyn's Ladder 101 in Red Hook.





Joe and Naoemi's favorite poem.





July 4, 2000.





Joe and Naoemi.





Just checking in to see
whats going on, give me a call.



| | | |
| --- | --- | --- |
| The FDNY's Emerald Pipes and Drums Band. | | Joe Gullickson's nephew carrys his helment, followed by the rest of Joe's family and friends. |